Bruckner – the name is the message. In German, this name is associated with bridges, communication, cooperation, agreement. We have connected it with our professional allround language services.
About the founder of Bruckner Translation services: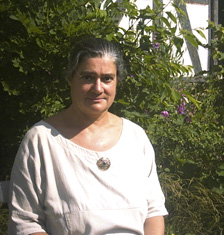 Ilse Maria Bruckner, State examined Translator of English 1991, sworn and authorized by the Regional Court Frankfurt am Main 1992, member of the German Translators´ and Interpreters´ Association (BDÜ) since 1992. Professional training courses at universities and with the professional association BDÜ. Working as a freelance translator since 1991. Hobbies: reading, gardening, bee keeping.
As some clients needed translations in many languages, Bruckner Translation Services were founded to optimize the service. Today we work in all world languages, all EU languages and several Asian languages, focusing on Chinese. We are a team of examined professionals and have qualified by taking university examinations or state examinations.
Since 2005, Bruckner Translation Services have been working in the UNESCO Biosphere Reserve Rhön. Our office is in the pittoresque rural community of Nüsttal. But our Rhein-Main clients need not travel a long way to meet us: we will find a customer-friendly solution for any matter that cannot be dealt with by phone, fax or e-mail.
To secure a clear order structure and a consistent quality management of our translations, we organize our work according to the German standard DIN 2345.